Who am I?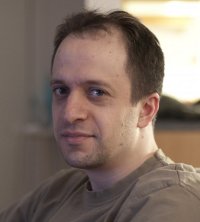 | | |
| --- | --- |
| Name: | Thomas Pike |
| Online alias: | Xiven |
| Description: | Human male, 37 years of age |
What do I do?
For the last 11 years I've been working as a Systems Developer for Opera Software in Oslo.
Computer programming has been a hobby of mine since I was about 7 years old. Back then I was programming useless things in BASIC on the Commodore 64. Later I progressed to AMOS and then Blitz Basic on the Amiga 500 & 1200. For my A-Level in Computer Science at Sponne School I learnt Pascal and wrote a game for teaching people the layout of the school for my project. At about the same time I also wrote a couple of games for my Casio CFX-9850G graphics calculator. On my Computer Science course at University I was taught such useful languages as Scheme (a variant of LISP), Prolog and C.
For my final year project at University I wrote a web-based multiplayer strategy game which was pretty successful and as such myself and several other people continued to maintain and improve it for some time.
Nowadays I write web pages and web applications in languages such as PHP (with HTML, XHTML, CSS, SQL and JavaScript). Oh, and I hate Java-based web applications with a passion (being the primary maintainer of a JIRA installation will have that effect).
What do I like?
Music
I'll listen to pretty much anything. This can be confirmed by anyone who has looked upon my Winamp playlist. In particular though, I like dramatic orchestral music (such as movie soundtracks by the likes of John Williams and Hans Zimmer, and trailer music by Two Steps From Hell), J-Pop (particularly the works of Kajiura Yuki), some European Pop and various other stuff (anything really, as long as it has a tune).
TV shows
In general I tend to like science fiction shows, but not exclusively. In no particular order, here are some of the shows I watch(ed):
Computer games
Yes, I play computer games (badly). These are a few of my favourite past and present games:
PGP public key
pub 1024D/F1DACDC1 2004-12-27 Tom Pike
    Primary key fingerprint:  04C5 2ECE 788C 2E9C EE7E D600 C30A D208 F1DA CDC1

-----BEGIN PGP PUBLIC KEY BLOCK-----
Version: GnuPG v1.4.7 (MingW32)

mQGiBEHQFa0RBADHnrkK5RMmga7JLzshAANnfNkJKcs74KKVuHBtz8z1f7S5QoSl
UsihaaszispoBaaoO47Ks7nIGhsx4RVPbic51Hp2V+3p3R31yweI6fZcrYGwC1Ed
zS3kVCrF7Rs9JmJ+QrgIlB1TwPD5Rqh5iAhR/QrjnsSSPUKPEAQtud7E+wCgy96o
NGBB3Wa1tKem1+5Svmn70IsEAIWAUFlXo4xvWwXue6ABlslsgKNL4AXY/MkAf0ki
UHMA8QLgCdpPHeprkYFDIsYgCpjVXmoml+Js18ypSA6G2zAyWaLpsa8SAtUfMPGM
dZp8rSdwZAB4i0vovhRdvrKwFOGo9yn5elOZvPWdwaYQJpFdvKnTKEu5gsFAPKqd
ahOvBAC6A/J28BJCq081r+DkUpeIAP4L5o7Yxf+9x01uxz+cdvp4qzUKYu1xjuky
oW6/HMGMzoWZy19c1RPnEVvGSai44oUJNM8l4yULETHMQ3TCQybRb8SZ4LQAmTdp
9lMLdVsLomPrcYO4Ot7u1TXA+Q0Ot3g5gAxXn+0n3WRgqANM7rQdVG9tIFBpa2Ug
PHRvbS5waWtlQHhpdmVuLmNvbT6IXgQTEQIAHgUCQdAVrQIbAwYLCQgHAwIDFQID
AxYCAQIeAQIXgAAKCRDDCtII8drNwZlTAJsFLaRMTupLpPOyZshhzmPCvGvwGACe
INxEFk60W3Tax7ULhSh/hg343nuIRgQTEQIABgUCREddiwAKCRDGfQeEEYjAhZZQ
AJ9uKBd20IAiGgJJOJizzRWHMWx2KACeKdxhiPsq96ndIpOpHix5Dt8KjB+5Ag0E
QdAV6xAIAIIweGgeKA5lkrVSgtyH8RHNTmoDQISbh4jh7PlvnJtsg3vHylPKkbuP
vIUQHrjagSwvFQWXNJKTr2JrzHOnU6I6YGrVaHi6xArk5daO9mGoWwux3lquSunt
VMG8Ci6l2ayBzu8B7vNhQxMsvx0SxUKOy+v99SHFHXK8zcobfzlvd62P6k3zWP1q
E9AjQR5FegtmlPWwEEGl0cLkWKnnyZCVPGqcKLXN6Flk0j52+g82b5kvCMG8fv2t
bAnx2GK8KJ1njAiGaFJInt4FXPXgjy45NiZRvcuIkzZ3WROWlBrq8azvlh7XAU/a
glE1GjAsAdsvn1tfagAXK/493pM2oU8AAwUH/3+QfxjU6o2wwCqyj0U8FF4VLF4V
L3z+R56UBRZlS/kQ9Q6Mm5QB6PeTzO6gq8me+gfh37yX9YmSjCW2C3BOMwLJ3vpH
9xuJoYdi7zyrAimKGJGXLqvCZC6JuRyNbUHfz8Sk7A+lxsgjuHy/abgicy36O5Br
yUEoTLxrOAHKde5y0ZF/TBCMp+T24mCl7UmPzhGi6BDdiiOmzCTukQb55SmmoIbe
xuoh5gREeeGYwsNgiEWIK7dWZG2dYOkhaW5TkdFxYAlSbf1+q+tTWdGny8p1bfWX
7O/BUIvzCpd1SzevLpKjDAQ/hh/Y6vM29pWkasd2IKjl7+VrYedNX6joxwqISQQY
EQIACQUCQdAV6wIbDAAKCRDDCtII8drNwb6RAJ9kKJxwLKNPneVOJyYMMlanFbN8
5QCfZSE3bKs0cDRi3642jctvJczXvfU=
=4JBc
-----END PGP PUBLIC KEY BLOCK-----